INSTRUCTOR
>
Melissa Frei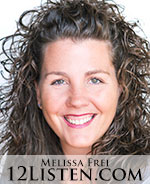 Psychic Intuitive Certification Courses Facilitator (MM2Y)
Dialoguing with spirits since age seven, Melissa's gifts were apparent early and flow easily with phenomenal accuracy today. As a premier Psychic Medium and Angelic Channel, Melissa is also an amazing teacher. Melissa's teaching style is relaxed, engaging and non-judgmental, yet powerful and incredibly effective. Humble and grounded, she has an uncanny ability to relate to people. She will keep you completely engaged; using language and terms that make sense while incorporating true life examples. With life-long experience and expertise in her field, Melissa has created a series of courses in the psychic arts, with her six-week Psychic Intuitive Practitioner Certification course as the foundation. All classes are taught in the comfort, privacy and security of your home through her web-based university: MyMindToYours®(MM2Y). This is unlike anything you've ever seen before! Be prepared to be fully inspired; to identify and strengthen your gifts; to raise your potential and empower your life. You'll come away with the confidence to use and share your gifts with others. If you're ready to learn with ease and deep connection, Melissa is your teacher! Sign up today! For more info go to:
www.MM2Y.com
Melissa Frei E-mail Services
Our Advisors provide e-mail services for added convenience. Look below to see what services are being offered by this particular advisor. To order any of the services simply click on the title to be taken to the registration page.
Remote Viewing for Beginners "Finding Holly"

We will be working on an ACTIVE missing person case!

In this introductory class, we will explore the dynamic process of Remote Viewing! Formerly a secret skill used by mystics and adopted by governments, remote viewing is coming more and more into the mainstream and can be an invaluable tool. The process involves using your third eye as well as traveling remotely to different physical locations where you can literally view the area and bring back specific, verifiable information. I have used this skill in my practice to help solve missing persons cases and I know first hand the enormous affects remote viewing can have. Using this skill requires meditation, dedication, and responsibility. In this class, you will learn the basics of remote viewing and experience practicing during an interactive exercise! I'll also share with you my personal thoughts and feelings about using this incredible information gathering technique.




$25.00
Show Melissa Frei's E-mail Services
Hide Melissa Frei's E-mail Services