INSTRUCTOR
>
Kelly Whetstone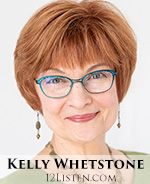 Energy Healing, Feng Shui, Psychic Development
Kelly is a Certified Professional Clairvoyant Reader, Healer and Teacher. She is also an Ordained Minister. She has studied many areas of metaphysics for over 25 years and is a graduate and former staff member of The Inner Connection Institute in Denver, CO. She is a Feng Shui practitioner, consultant and teacher. She is an Artist and Faux Painter. Whether she is teaching Psychic Development or a class in the Creating an Empowering Environment series she brings the subject to life with her passion and enthusiasm. She teaches from a place of validation and amusement and her excitement is contagious. Her purpose is to help her students realize how truly limitless they are and to empower them to become the conscious creators of their lives.

Kelly offers 30 minute One on One Energetic Healing Sessions through 12Academy. After registration the session will be scheduled at a date and time that is convenient for the client.
Kelly Whetstone E-mail Services
Our Advisors provide e-mail services for added convenience. Look below to see what services are being offered by this particular advisor. To order any of the services simply click on the title to be taken to the registration page.
| | |
| --- | --- |
| | Empowerment Reading/Healing |
| | This reading expands on the Clarity Reading and can cover up to three separate issues. Please provide your name and a detailed description of what you would like me to look at for you. This is a reading and a healing. If I find foreign energy I will move it out. I am here to help bring clarity about situations in your life that seem to have you under their control. Awareness is power. Let's get you back in the driver's seat. If the situations involve other people please provide their first names. I will read your energy and the energy surrounding the situations and send you the complete reading via email.. *** MP3 audio*** |
| | View a sample |
| | $125.00 |
| | |
| --- | --- |
| | Clarity Reading! |
| | What issue is constantly demanding your attention? Send me your name and a description of what is going on and let me help you with it. I will look at the energy around it and move out any blocks I find to bring you clarity. In order to move past anything you have to be willing to look at it and find out what it is trying to tell you. When you know what something is you are its master because then you know how to handle it. Nothing is greater than you are. If the issue involves other people, please also provide their first names. *** MP3 audio*** |
| | View a sample |
| | $95.00 |
| | |
| --- | --- |
| | Complete Chakra Balancing/Aura Clearing Healing |
| | As an energetic being you are encountering and taking on energy constantly. Sometimes it can be difficult to find yourself in your own life! An Energy healing is a wonderful experience because it releases energy that's not yours and that does not benefit you and replaces it with healing energy that brings clarity and puts you back in the driver's seat. Send me your name and I will work with my Healing Master to do a complete Energy Healing/ Chakra Clearing and send you the results via email. I will describe the energy I encountered in your energetic body, I will describe any blocks that I found, what they were related to,(many times past life information) and move them out. I will also describe the healing energies that were sent through your energetic body after the release. This is a complete healing and a great reference tool to go back to and experience the healing energies anytime you want. You will feel the difference. *** MP3 audio*** |
| | $175.00 |
| | |
| --- | --- |
| | Heart of the Matter Healing |
| | This session zeros in on a specific issue. I identify and remove blocks, erase programs, if any, and send healing energy to replace unbeneficial energy. Reset vibrations to attract what you want in your experience. When you order please give me some details and if it concerns another person please give me their first name. This is a great energy reset! ***MP3 Audio*** |
| | $95.00 |
Intuitive Feng Shui - Basics 12Academy Class Recording

Feng Shui is a very powerful practice because it is a practice of mindfulness and love that demonstrates the power in symbolic acts. We are going to be talking about Feng Shui as an intuitive practice - more about feeling than black and white rules. It is very common sense and so much fun once you know the basic principles.

The student is provided with additional information along with the link to the recording.





$35.00
| | |
| --- | --- |
| | Intuitive Feng Shui - Relationship Areas of the Ba Gua |
| | From family to the person who fixes your car, to coworkers to your home, Life is Relationship. What we will be talking about in this class is not just a relationship with a partner, but it is the relationship we have with all of life, every person, every living thing and our homes. Aside from the Love and Relationship corner there are many areas that address relationship. By working with cures and enhancements we can use these areas to enhance and create beneficial relationships and heal past relationships. |
| | $35.00 |
Intuitive Feng Shui - Prosperity Areas of the Ba Gua

Prosperity is not just having money or things, it is a consciousness, a magnanimous, generous, giving consciousness.
There are many areas of the Ba Gua that support prosperity In this class we go through each one and address cures and enhancements so that your home becomes your partner in achieving a prosperity consciousness.




$35.00
Specific Room or Area Energy Clearing - MP3

This is a healing that deals with a specific area, room or energy. If there is a certain area of your home that needs a clearing and infusion of new energy this healing is for you. If you have a personal office or cubicle in a larger office this healing is for you. If there is a specific energy that you would like to have cleared this healing is for you.
I will read the energy, clear it, set energetic boundaries and fill the space with the energetic vibrations you want to experience. I will send you a link to download the details of the healing.
Your home or office is your space and should nurture and inspire you. I can help and you will feel the difference. *** MP3 audio***


$125.00
Show Kelly Whetstone's E-mail Services
Hide Kelly Whetstone's E-mail Services